Custom Scalloped Stratocaster – Seymour Duncan SJBJ / SDBR / SL59 – Kahler vibrato
January 30, 2023
Scalloped – 22 frets – 010​ string gauge – Snake fabric finish
I also made this guitar in France in 2019 in my parent's attic. I moved to Thailand soon after and barely played it a few times.
The Snake is the latest instrument version that was modified many times. I am trying to remember all the neck, body, electronics, and electronic mods I did on this scalloped project. But I can't. Lol
The actual and probably definitive project consists of the following:
A severely modified ash Stratocaster body from a Spanish luthier, with a scalloped neck from China, both bought on Paypal. A smashed aluminum pickguard from Aliexpress that got delivered folded in two. I got a refund, and I hammered it nicely until it seemed on purpose. 
I plugged the back cavity with a wood paste mixed with sawdust to save on wood paste. I also modified the original fender tremolo hole to fit a Khaller vibrato. 
I also had to modify the bridge position because the scalloped neck I bought from china on eBay was probably built from a postcard.
The intonation is good, and fretting is finally made smooth. But they forgot that the neck heel is not up to the end of the fingerboard but somewhere between the 21 and 22 frets on a real Stratocaster neck. 
Because of that, the neck is longer. Up to the end of the heel, way after the 22-second frets. That's why the aluminum pickguard is modified between the bridge pickup and the vibrato. A good thing, after all, it is much easier to reach the last frets. 
The actual electronic consists of:
Nine position switch​ 

Seymour Duncan SJBJ / SDBR / SL59 pickups​ 
You must use 3 On-On-On switches to perform this wiring, one 500k push-pull, one killswitch, and one 500k tone pot since it's an HSH pickup setting. 
You can also do the 9-way Switching using two On-On switches or push-pulls, but you won't be able to complete the wiring I did. 
The 9-Way Switching offers: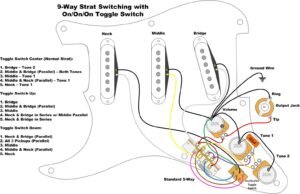 Switch in the middle (Normal setting)
1. Bridge

2. Middle & Bridge (Parallel)

3. Middle

4. Middle Neck (Parallel)

5. Neck
Switch in the south position (Gilmour switch)
6. Neck & Bridge (Parallel) Bridge position

7. All 3 Pickups (Parallel) Middle & Bridge position
Switch in North position
8. Neck & Bridge in series. Neck position

9 All 3 Pickups. Neck & Bridge in series, middle pickups in Parallel. Neck & middle position
Series-Split-Parallel Switches
Neck and bridge humbuckers

Pots
Push-Pull volume and solo switch
The volume pot is a push-pull. Solo in up position, it bypasses all the pots.
Direct pickups sound.
Depending on where it is placed in the circuit, you can bypass any pot or redirect to another circuit.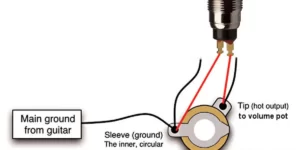 Kill Switch
When pressed, it sends the signal to the ground instead of the output jack.
They deliver the same effect as the toggle switch technique, but it is much easier to manipulate.
It is effortless to wire and works on any electric guitar!
I used this guitar in one of my latest videos, Encore 2023.
Check the video here or on my Youtube Channel.
Some pics of the building and some pics now
Click on the image to see them larger
I am Hervé Senni, a pro musician and performer, Composer and arranger for quite some time. My main musical instrument is the electric guitar. I am also a bass player, mandolin, Ukulele player. I also invented string instruments.
Over the years, repairing and improving electric guitars that did not have to be upgraded converted me into a self-taught luthier.