Roller Nut
Tony Iommi Pickups by John Birch – Amazing Upgrade
Tony Iommi Pickups were one of the few pickup's types missing to my arsenal of guitars. If you remember my previous article about my last build, I had installed Tonerider Rebel 90 pickups on it.
Everything was fine, and the beauty just sounded perfect. The only problem was, my SG equipped with neodymium Entwistle pickups have the same sound when set to split mode. Considering the SG has a Gibson scale and sports the same tremolo, it was a duplicate.
Why upgrading a brand new built?
Even if I look like a crazy shopaholic guitar collector, I'm not. I know I have way too many guitars, but still, each and every one of them is unique and sounds different from the other 19. I spend my time trying new mods on my test strat to make them as different as possible. I had probably rebuilt each of them 3 or 4 times already.
The Les Paul Junior Double Cutaway Kit was,… Continue reading →

Electric Guitar Kit
This article is about my latest build. A Les Paul Junior Double Cutaway Kit featuring two ToneRider Rebel 90 pickups and an Artec BCU.
The BCU is a Band Control Unit onboard frequency booster that I already reviewed on two different guitars in this article. Check it out if you want to have a deeper test of this unit.
The Les Paul Junior Double Cutaway Kit
I bought this kit on AliExpress for the small price of $179, shipping included.
The regular Les Paul Junior Double Cutaway Kit features only one P90 pickup routing, an Adjustable Wraparound Bridge, and a tiny cavity for two potentiometers only. A Volume and a Tone pot.
I knew before ordering that I'd be installing a Stetsbar tremolo that requires a Tune-o-Matic support (4 holes), two humbuckers and a four potentiometer electronic with a 3 position Metric Toggle Switch.
So, before ordering, I contacted the seller to know if he could do those mods for me and at what cost.
How to install a Fender L.S.R Roller Nut on a Stratocaster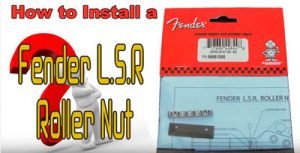 In this post, I'm going to cover how to install a Fender LSR roller nut on a strat.
Fender LSR roller nut instructions
It is a straight forward job easily attainable. Especially if you install it on a rosewood fingerboard. You only need a cutter, a file, a screwdriver and a drill with a small drill bit.
It is slightly more challenging if you want to place it on a maple neck because that type of wood is very hard. You need a Dremel to remove the extra bit of fingerboard. Using a file is going to take forever and trying to do it with a cutter isn't going to work. You can hurt yourself, break the cutter, or both.
You can achieve this task within 20 minutes. I already installed a Fender L.S.R Roller Nut on most of my Stratocaster, and it was always an easygoing duty.
To get a perfect tuning stability on a Stratocaster sporting a… Continue reading →