Custom Pickguard
SSS custom pickguard for Stratocaster- Women Tone, Bass Cut & 2 Volumes
This SSS custom pickguard is the latest creation of mine. I always like to try new settings and test them.
I got the bass cut and women tone idea from a Hagstrom Retroscape Impala guitar I have. It simply adds a resistor or a capacitor to the circuit.
A 12K resistor on the women tone switch (on/on), and a 0.003Mf capacitor on the other On/On switch. (bass cut).
The pickguard features
2 volume pots
The first volume works on the neck and middle pickup
The 2nd volume pot works on the bridge pickup
The tone pot is only active on the neck and middle pickups.
3 Toggle Switch
The famous Gilmour switch. It activates the neck pickup no matter what, giving seven possible settings
The women tone. A 12K resistor added to the circuit.
The bass cut switch cuts out the bass frequencies and renders a more treble sound.
Take a look… Continue reading →
GFS Gold Foil Pickups – Advanced HSH custom pickguard
GFS Gold Foil Pickups are the pickups powering this Partcaster. I made this beauty almost three years ago using parts from different places.
GFS Gold Foil Pickups
I bought the gold foil pickups on the guitar fetish website. The site is a great alternative to mods guitars cheaply without passing on quality. I think that Artec manufactures most of the electronic on sale at the site. I personally really like Artec pickups that I consider as good as better established brand such as Seymor Duncan and Dimarzio.
GFS Gold Foil Pickups are offered in different shapes. You can get them as humbuckers and single coil pickups. On this custom strat, I decided to make an HSH pickguard featuring my favorite wiring mods as well as an Artec VPS onboard booster.
About the Artec VTC booster
I already reviewed the Artec VTC booster in another Article on this site using the same custom strat. Check about it following this link if you're… Continue reading →
Stratocaster wiring diagram – Brilliant & Unusual Approach to the five positions selector
Stratocaster wiring diagram, the Two Volume Strat Plus Wiring diagram I did on my custom Stratocaster is based on a schematic by John Hewitt.
John Hewitt is a moderator at the great guitarnuts2 board. He delivers many guitar wiring diagrams that are effective. A lot of diagrams you can find on boards are often not working or poorly drawn. Not his.
I modified this diagram to fit my needs, and also because I don't like certain options he chooses. My approach is not better, only different.
In his original diagram, he opted to do a traditional volume pot wiring and to add treble bleeds on both volumes potentiometers.
Two Volume Strat Plus Schematic
I don't like regular volume pattern. If you roll down one volume pot completely, the guitar is totally shut down. I prefer the independent volume wiring. It allows dialing a total volume balance between the two volume pots. I mean, if I invest into… Continue reading →
Red Special Wiring Plan – The Best and Easiest Wirework
The Red Special Wiring is a popular pattern. It has been popularized by Brian May on his famous Red Special handmade guitar. I don't think he invented it, out of phase pickups were famous in the 50s, but he is the first one to have used it massively in rock. Well, at least the first well-known artist.
Is it because of a lack od knowledge or because the On-On-On toggle switch didn't exist at that time? Whatever the reason was, Brian May used 6 ON-ON slide switch to achieve it. Because of that, today most people doing this wiring are doing it the old way.
The six toggle switch wiring is more complicated to perform, cost more money, require a heavier pickguard modification and is a PITA to run.
The switch needed to assemble the Red Special wiring using only three switches are 3, three positions double pole (DP3T) ON/ON/ON toggle switch.
Also, because I'm a gear geek, I am… Continue reading →
Quest for the perfect tone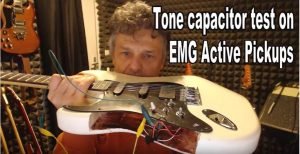 Guitar Tone Capacitors is today's subject. In the video included in this article, I am testing different capacitor values to find the best tone for an EMG Strat pickguard I am building.
I installed this pickguard on the labstrat I made. I modified this guitar heavily to be able to test every possible mod I want. It's a pain to have to remove the strings or unscrew the neck every time. After a few time, some strings are breaking, or the neck holes screw are getting loose. It's a waste of time and a loss of money.
This situation forced me to keep guitars that were not fully configured the way I wanted, simply because I did not want to disassemble them an umpteenth time, just to change a switch.
Now with this test guitar, I can swap a pickguard in seconds. I can imagine any weird mod, or stumble on an unusual schematic online and check it right away.
When I work on a… Continue reading →