DIY guitar kit
EYB Sitar Bridge – The Only Adjustable Sitar Bridge for Guitar
EYB Sitar Bridge is the only adjustable sitar bridge available for guitar.
If you know my work, I am interested in building all the possible guitars you can think of. After these days, I think I made about 24 different custom guitars that I am using daily in my studio to record my music, or for licensing music production.
I was wondering about guitar sitar since a while. I knew about the Danelectro model, and I was trying to put my hand on a secondhand one. But, I decided a long ago to only play with instruments I make. Except for an acoustic guitar, a 6 strings bass, and a nylon guitar, all the guitars I have are my creation.
I was clueless about how those guitars were made. I knew some people were doing some low-grade mods on their guitar to transform a regular guitar into a sitar. But first they sounded bad, and secondly, they sounded… Continue reading →
This article is a review of the last guitar I modified, namely, the Harley Benton Telecaster Thinline
I equipped it with P180 pickups purchased on the Guitarfetish website, and I did the standard wiring that I perform on all guitars equipped with Humbucker pickup.
I have added two on-on-on switches to get my favorite modifications which are the ability to select each pickup in series, split, and parallel position.
On the tone control, I added the solo option. It is, of course, a 500k push-pull type of pot. In the mounted position, the solo switch is activated, which bypass potentiometers from the signal and allows the sound of the pickups without any filter.
On the volume potentiometer, I added a half out of phase option. There is a significant difference between the half out of phase and the out of phase setting. Indeed, an out of phase pickup needs to be opposed to an in phase pickup so that it gives a different sound. While with a pickup in half… Continue reading →
Artec Electronics Onboard Equalizer and Booster
Artec Electronic offers a great alternative to customize a guitar for a low price with high-quality components. The only hassle is to find or create a place to put the battery. Most of the passive electric guitars do not have such free spot, and on a Stratocaster type of instrument, it can be a PITA.
I have built this guitar using a kit from Aliexpress. I paid it 161$ shipping included. It's a 24 frets hollow-body guitar that looks like a sort of PRS. I don't know what the model of that guitar is. Normally, with kits, it's always a copy of a known instrument such as; SG, Telecaster, Les Paul, etc…
This one I have no clue… But it's a fantastic kit.
As I say in the video, I changed the hardware completely. I only kept the tuners, selector and jack plate. Everything else is new. The hardware included in any kit is first price quality.
If you only build a kit using… Continue reading →
This article covers the advanced Jimmy Page wiring
I made this custom electronic for the SG kit project using Entwistle HVN Vintage Humbucker Pickups.
This article is the fifth and last one of the SG Kit Project series
In the first video, I glued the neck and painted the guitar.
In the second video, I applied nitrocellulose varnish.
In the third video, I created and implemented a waterslide decal logo.
In the fourth video, I set the neck, the stetsbar tremolo, and the guitar intonation.
A quick update concerning the issue I had with the intonation setting in the previews video.

I had to reverse the saddles of the low E string and the G and B strings. The issue was certainly due because the kit wasn't well made. When you buy a DIY guitar pack, a number must be penciled on the neck and in the neck slot, to prove that both pieces have been made to fit together. It was not the case with that one.

Also, the… Continue reading →
Create and Apply Custom Waterslide Decal – Build your Own Guitar Kit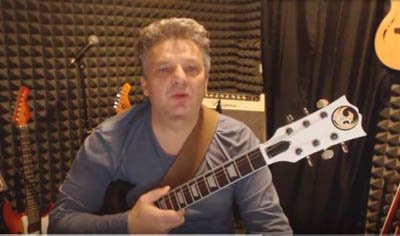 This post is going to show you how to design a Custom Waterslide Decal and paste it on your guitar headstock. This is the third article in the series dedicated on "how to Build your Own Guitar Kit".
The Custom Waterslide Decal process should typically happen before applying the varnish. First, the guitar was entirely painted in a dark brown color. It was impossible to add a Waterslide Decal on the headstock because the background was too dark. I knew it was going to happen, but I expected a better outcome.
There's no white ink in printers. Thus, all colors using white pigments are altered when printed on a transparent support. Because of that, the actual background color replaces the white coloring.
One of the solutions is to use a white transfer paper. The other solution is to change the color of the headstock for a paler coloring.
My first reaction was to keep the guitar logo free.… Continue reading →
How to Apply nitrocellulose lacquer spray
This post is going to show you how to finish a guitar kit using a nitrocellulose lacquer spray can.
This is the second article in the series dedicated on how to Build your Own Guitar Kit the right way. In the first post, I was explaining how to clue the set-in neck and how to paint the guitar using a nitrocellulose spray paint.
Actually, the nitrocellulose spray paint I used in the first video includes the paint and the varnish. The extra coat of nitrocellulose lacquer I'm going to add in this video wasn't needed. You can actually skip that part depending on your budget or the model of guitar kit you are working on.
Here is why:
I decided to apply an extra coat of varnish because the SG guitar has a set neck painted with the same color as the body. Nitrocellulose paint is perfectly fine for a body surface, but for the neck, I wanted a smoother finish. Like a pro… Continue reading →
Build Your Own SG Guitar Kit The Right Way
I'm starting a series of article on how to build your own guitar kit the right way. This particular project features an SG guitar package. Each post is going to feature a video detailing every step needed to achieve an astonishing looking guitar and listing all the tools required to perform the task ideally.
The SG kit I am going to setup is not recommended for a starter kit. The reason is the set-in neck. Set necks are not that difficult to install, but if you fail, it's tough to correct yourself.
The idea to make your guitar using kits is to avoid the cost of a luthier. Having to pay one at the first step of your first kit is not wise. That's why I advise you to start with a bolt-on neck type and to go to a more advanced plan after having gained some experience on easier models.
If you are used to woodwork, you can start right… Continue reading →
Build your own guitar kit – DIY guitar kit reviews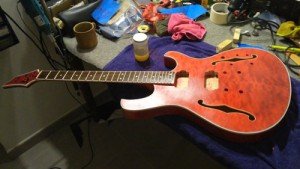 That idea might sound incredible, but you can craft an amazing instrument using a first price DIY guitar kit, and be able to surpass, or, at least, equal a guitar of an established brand. Part of this website is going to cover that subject regularly, posting step by step pictures and videos on how to build your own guitar kit.
The one misunderstanding is to think that you have to use precious woods and expensive parts to make a real electric guitar. You might also believe that it requires years of experience to create an excellent guitar. It's true if you intend to build the entire body and neck from scratch. Those tasks require very expensive tools that need years of experience to master, and, of course, a dedicated workshop. (You can't run a Rooter in your apartment on a regular basis). But it is quite easy to build an excellent instrument using a guitar kit. You just need… Continue reading →