Electric Guitar Kit – Les Paul Junior Double Cutaway Kit – Tonerider Rebel 90 pickups & Artec BCU
August 2, 2016

Electric Guitar Kit
This article is about my latest build. A Les Paul Junior Double Cutaway Kit featuring two ToneRider Rebel 90 pickups and an Artec BCU.
The BCU is a Band Control Unit onboard frequency booster that I already reviewed on two different guitars in this article. Check it out if you want to have a deeper test of this unit.
The Les Paul Junior Double Cutaway Kit
I bought this kit on AliExpress for the small price of $179, shipping included.
The regular Les Paul Junior Double Cutaway Kit features only one P90 pickup routing, an Adjustable Wraparound Bridge, and a tiny cavity for two potentiometers only. A Volume and a Tone pot.
I knew before ordering that I'd be installing a Stetsbar tremolo that requires a Tune-o-Matic support (4 holes), two humbuckers and a four-potentiometer electronic with a 3 position Metric Toggle Switch.
So, before ordering, I contacted the seller to find out if he could do those mods for me and at what cost.
About AliExpress
ALiExpress is such a huge site; you never know from what type of seller you are buying. Some retailers offer a huge list of goods, going from humbucker pickups to dildos and cell phone cases. They buy products in mass, and they don't even know what they are selling.
They are not always easy to spot because they might have many different stores on AliExpress. One for guitar products, one for sex toys, and so on.
On the other hand, many sellers are factory's representative. They work for one company, and they are knowledgeable about the products they sell.
The key is to contact them.
That was the case for this seller. He is working for a guitar factory and knows his stuff about electric guitars. He is probably a guitar player himself, and he knows all the gears and neck scales and what not.
The cool thing is that he agreed to make all the mods for free. So, I ordered a Les Paul Junior Double Cutaway Kit featuring two humbucker routing, a Tune-o-Matic support and the bridge itself, a large electronic cavity routing and custom-made pickguards for the price of $179.
He even refunded me $5 on PayPal because I told him I didn't need his pickups. So, in total, the kit cost me $174 shipping included. I received the package in under two weeks' time.
It was an excellent deal.
>>>large choice of Electric Guitar if you don't feel building it <<<
Watch the Les Paul Junior Double Cutaway Kit in action
Graph Artist Paint & Varnish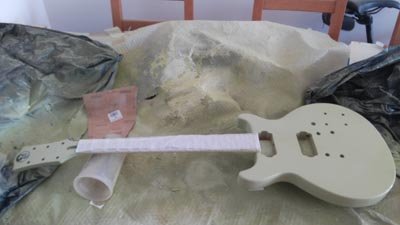 For this project, I decided to give a try to paint and varnish spray cans used by graph artists a try. I was tired of paying a fortune for guitar spray can just to have a guitar logo on it.
The Paint
The paint brand is Belton Molotow. The color I used for this guitar is green tea. You might like it or not, but painting quality is second to none, and the smell is almost right. Regular sprays stink a lot and are highly unhealthy. I'm not saying this one smells like perfume and is good for your health, but I could paint inside, and the smell was gone after an hour of ventilation.
The varnish
The varnish I used is a High Gloss polyurethane car varnish. It's a Bi-component scratch resistant varnish. This polyurethane varnish provides efficient and lasting protection to paint finishes. It has a high resistance to chemicals, solvents, weathering, and UV. Transparency offers high color stability and ensures a perfect finish.
The Pickups
I opted for Tonerider Rebel 90 pickups after checking out a demo on YouTube. I bought the pair online on eBay for 100€. There are p90 pickups with the shape of a humbucker. They are also more silent than regular p90, probably due to the metal casing.
Keep in mind that those pickups are not compatible with out-of-phase and master series wiring. It is because the ground wire and the metal case ground wire are the same.

If you want to use those pickups for that type of wiring, you must modify them. I don't think it's a good idea. Opening pickup forces, you to wax them again and resoldering a metal case that was already waxed is a PITA. You had better buy another set of pickups if that is what you have in mind.
Stetsbar tremolo
The Stetsbar tremolo I used is from another kit I built. It didn't fit right on that guitar because the body was arched and the tremolo was set too high. Since it is a set-in neck, the strings were too high, and there was nothing I could do to fix that.
The Les Paul Junior Double Cutaway Kit is a hard tail model. Therefore, it was really easy to install the Stetsbar tremolo. That tremolo is one of the best solutions for hard tail guitars. The only other two I know are, the Duesenberg Les Trem II, and the Floyd Rose FRX Tremolo System.
The Duesenberg is limited. It can only go down, and the Floyd Rose FRX is probably better but way too expensive.
The Artec BCU
As I already mentioned above, I published an article about it here. I installed it on that guitar to add versatility to the sound.
The custom electronic
The custom wiring, I made is incredibly simple, due to the limitation of the pickups. I already built 20 guitars featuring all sorts of mods; I wanted to keep this one simple.
Click on the small pick to get the PDF file of the diagram.
The Master Volume
The master volume is a 500k push-pull pot. When pulled the signal bypasses the volume and the PTB pots, but not the Artec BCU.
PTB Wiring
I chose a different value for the treble cut pot. The bass cut pot features a 0.022uF cap, while the treble cut has a 0.0047uf cap instead of the regular 0.0014uF. Pots are 500k.
I picked a higher value because I find that the range of the potentiometer was not effective with a 0.0014uF. It's better that way, but it depends on the effects added a lot. The difference might be huge or inaudible.
Same with the solo switch. Depending on the PTB setting, the sound can be really close.
Here are the same links I used to get all the gears needed to build that Les Paul Junior Double Cutaway Kit.
Recommended Les Paul Junior Double Cutaway links
If you have already built a Les Paul Junior Double Cutaway guitar or decided to follow my humble advice, please talk about your project in the comment form below. I'll be more than happy to read about it.
---
Distribute your music using Distrokid
Use my VIP Link and get 7%
I am Hervé Senni, a pro musician and performer, Composer and arranger for quite some time. My main musical instrument is the electric guitar. I am also a bass player, mandolin, Ukulele player. I also invented string instruments.
Over the years, repairing and improving electric guitars that did not have to be upgraded converted me into a self-taught luthier.
This post is also available in: French