Guitar Tone Controls – PTB Control Mod on two Conductor Humbuckers – Out of Phase & Master Series
May 29, 2016
Guitar Tone Controls PTB Control Mod The best alternative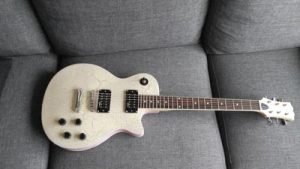 I made this guitar for a friend of mine. It is a Les Paul guitar type, but with a bolt on neck.
Since I had two BC Ritch humbuckers sporting two conductor wires only, I decided to use them as they are and to test all the possible mods you can do with such pups.
I could have modified them easily into four wire pickups, but doing that requires waxing them back again to avoid microphony issues. I could have waxed them too, but since my friend is a drummer, he doesn't need tons of fancy mods.
The only mods you can do with two conductor humbuckers are:
Out of Phase and master series.
The electronic has two push-pull potentiometers with independent volume wiring. The two-tone pots are the famous PTB Tone Control.
The neck pickup volume sets pickups out of phase, and the bridge volume is a master series.
The two bands EQ is very effective, especially on distortion sound.
I adapted two different wiring schemes to create this setup. The out of phase and master series wiring is conventional. I used a plan from the famous deaf-eddie.netwebsite. This is the one published in this article.
I modified it to have the Out of Phase and master series options wired on the two volume potentiometers instead of the tone pots. I also inverted the hot wire from the pickups and the output wires to the selector to have an independent wiring for the two volume pots.
The PTB Control scheme is from the website premierguitar.com. It was included in an article by Joe Gore.
This is a cool and quite affordable mood you can do on a guitar. If you plan to do that on a Les Paul guitar type, you only need to buy some capacitors. If you want to modify a Strat or any guitar owning 250K potentiometers, you'll have to invest in two 500K pots.
If you buy the pots to do this wiring, do yourself a favor and buy one 500K and one 1meg potentiometer. The bass pot sounds even better with a 1Meg pot.
I had lots of potentiometers already and no 1Meg, so I did it with two 500K pots, and it works really well.
This PTB Control wiring is a modification of the two-band pattern that was created by Leo Fender. It employs two tone potentiometers: One pot cuts the high frequency like a regular tone control, although the second filters out low frequencies. PTB stands for "passive treble/bass."
This mod is a blessing for guitarists soliciting higher control over their distortion or crunch sounds, particularly with humbucker pickups. With the clean signal, the result is more subtle.
The downside of this wiring is that you are losing the independent tone pot setting for each pickup. The system being active on both pickups.
The PTB Control is the best alternative for tone control. I tried everything possible: Varitone with 6 or 12 positions and with an inductor or not, and the infamous passive mid boost.
The PTB is by far the most flexible and useful of them all. The mid boost sucks, and with a varitone, high value above 0.047uF are not usable on a guitar. Since most capacitors offer no difference when they are on ten, the only contrast you have with a varitone is in the lower part of the capacitor. This is not very useful because you can get equivalent settings with the knob of a conventional tone pot.
gears needed:
Two 500k potentiometers (or one 500K and one 1meg pot)
One 0.022uF capacitor
One 0.0015uF capacitor
That's all
Check out the video
If you can't retrieve the ones from your guitar here are some links to order tone pots and capacitors.
I'd be more than happy if you could post a link to a review of your writing in the event you intend to do this mod or if you have already made it.
---
Distribute your music using Distrokid
Use my VIP Link and get 7%
I am Hervé Senni, a pro musician and performer, Composer and arranger for quite some time. My main musical instrument is the electric guitar. I am also a bass player, mandolin, Ukulele player. I also invented string instruments.
Over the years, repairing and improving electric guitars that did not have to be upgraded converted me into a self-taught luthier.
This post is also available in: French