Stratocaster wiring diagram – Two Volume Strat Plus Schematic & Demo – GFS Brighton Rock Pickups
July 23, 2016
Stratocaster wiring diagram – Brilliant & Unusual Approach to the five positions selector
Stratocaster wiring diagram, the Two Volume Strat Plus Wiring diagram I did on my custom Stratocaster is based on a schematic by John Hewitt.
John Hewitt is a moderator at the great guitarnuts2 board. He delivers many guitar wiring diagrams that are effective. A lot of diagrams you can find on boards are often not working or poorly drawn. Not his.
I modified this diagram to fit my needs, and also because I don't like certain options he chooses. My approach is not better, only different.
In his original diagram, he opted to do a traditional volume pot wiring and to add treble bleeds on both volumes' potentiometers.
Two Volume Strat Plus Schematic
I don't like regular volume patterns. If you roll down one volume pot completely, the guitar is totally shut down. I prefer independent volume wiring. It allows dialing a total volume balance between the two volume pots. I mean, if I invest in a custom pickguard featuring two volume pots, I'd like to be able to use them….
I also removed the treble bleed from his sketches. I don't like treble bleed on single coil pickups. I find that amazing on humbuckers, but with single coils, it's not satisfactory in my humble opinion. I tested every value possible, and the outcome was always poor. It preserves the height but kills the bass. Also, the range of the knob is significantly reduced.
I'm publishing both diagrams. If you want to get the original or my version, just click on the small thumb and download the PDF file.
>>>Potentiometers to wire  your pickguard <<<
Two Volume Strat Plus advantages
The amazing thing with this wiring is that you get 12 different pickup settings only using two push-pull pots and a regular five position selector.
It gives the possibility to fine tune the volume balance between the bridge and middle/neck pickups.
It allows different tonality settings for bridge and middle/neck pickups.
>>>If you prefer Hot Rails Pickups for your Strat<<<
Two Volume Strat Plus setting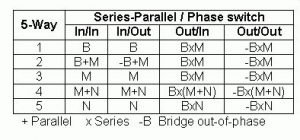 Two Volume Strat Plus limitations
No neck and bridge setting in parallel
No three pickups together in parallel
No three pickups together in series
Only the bridge pickup is available out of phase
With every wiring diagram, there are limitations. It's almost impossible, and not needed, to have every option available.
If you manage to have a pickguard featuring endless settings, you get overwhelmed by all the options at your disposal. Even with this pickguard, out of the twelve-setting available, I'm going to use 6 or 7 only probably. It also depends on the style of music and the way the gears are set.
Personally, apart from the five regular Strat settings, I dig the neck and bridge in series, middle and bridge in series and neck and bridge in series and out of phase. The remaining options are excellent too, but according to my music style and my gear setting I'd only use them sporadically.
GFS Brighton Rock Pickups sound different from regular Stratocaster single coil pickups. The sound is much warmer and features lots of basses. That's why I demonstrated each pickup individually at the beginning of the video.
If you intend to do this wiring with your set of pickups, it's going to help you to figure out how the advanced options are going to sound with your set.
Check out the demo I made
Custom Strat specs
GFS Brighton Rock Pickups Calibrated
Aluminum Alloy pickguard
500K push-pull
500K concentric tone pot
0,022uF capacitor for neck & middle
0,018uF capacitor for the bridge
Fender LSR roller nut
Planet Wave locking tuners
Wilkinson Vibrato
Ash wood body
Maple neck
Rosewood fingerboard
I used this guitar on those titles. You can listen to them right here on Deezer. You just have to be connected to your account to hear the full version.
The complete albums are also available at every streaming and download platform. Search for "Hervé Senni", "Strat Me Up", "The Secret Room Sessions" and " Positive Grooves".
Here are some links to get the exact gear I used to assemble this pickguard.
Get the Two Volume Strat Plus Gears
---
Distribute your music using Distrokid
Use my VIP Link and get 7%
I am Hervé Senni, a pro musician and performer, Composer and arranger for quite some time. My main musical instrument is the electric guitar. I am also a bass player, mandolin, Ukulele player. I also invented string instruments.
Over the years, repairing and improving electric guitars that did not have to be upgraded converted me into a self-taught luthier.
This post is also available in: French