How to Build your Own Guitar kit and Make it Better than Established Guitar Brands – Sounds Impossible?
March 4, 2016
Build your own guitar kit – DIY guitar kit reviews
That idea might sound incredible, but you can craft an amazing instrument using a first price DIY guitar kit, and be able to surpass, or, at least, equal a guitar of an established brand. Part of this website is going to cover that subject regularly, posting step by step pictures and videos on how to build your own guitar kit.
The one misunderstanding is to think that you have to use precious wood and expensive parts to make a real electric guitar. You might also believe that it requires years of experience to create an excellent guitar. It's true if you intend to build the entire body and neck from scratch. Those tasks require very expensive tools that need years of experience to master, and, of course, a dedicated workshop. (You can't run a Rooter in your apartment on a regular basis). But it is quite easy to build an excellent instrument using a guitar kit. You just need some direction.
First step: Starter Guitar Kits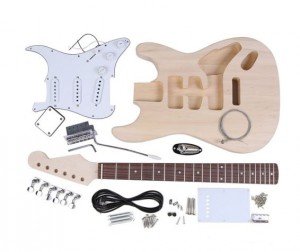 The first crucial step to consider to build your own guitar kit is the model you want to make. It might sound obvious, but some guitar kits are easier to assemble than others. The outcome is going to be entirely different whether you build a Tele guitar kit with single coil pickups or a semi-hollow body guitar with vintage humbuckers.
If it's your first guitar kit project, I highly recommend you to start with an easy one. Even if you only want to make one instrument because you want to save money, or you want to have your custom model sporting your design or an unusual wiring. You should start first with a simple plan that you can achieve successfully. There's nothing worse than investing money in a project that fails. You'll never start again after that, and you'll be frustrated to have lost time and money on gears which are going to rest forever in your basement.
You can still sell it on eBay or to a friend and make some benefit out of it, even if this is not the primary goal.
Starter Guitar Kits to consider to achieve your first project:
Stratocaster guitar kit
Telecaster guitar kit
Jaguar guitar kit
The reasons to start with those types of guitars are simple
All those models have in common:
A bolt-on neck
A solid body
The electronic compartment is easily accessible
You can build those models using only a screwdriver and a soldering gun, and you can make them fast! The facility of those kits will let you focus on the fundamental skills you need to improve to build a guitar kit.
Painting
Finishing (varnish or oil)
Constructing your initial pickguard/electronic
Setting up the instrument right
It's more comfortable to learn those tasks starting with an easy project. Mastering those different techniques while trying to assemble a complicated kit is way too demanding for a first kit. Beginning with an upper-level project is the best way to fail and to throw everything out of the window.
First you have to learn how to paint, how to apply a beautiful shiny varnish. You must also learn to set up a regular pickguard and set the intonation and string's height. You can always amend this kit later and modify the wiring, install a better vibrato or whatever else. If the base of the instrument is well done you can transform the guitar endlessly.
The most important duties to start with and to master are the paint job and finishing. Nobody will want to invest in better parts in a poorly painted instrument, even if it plays well.
Are those DIY Guitar Kits delivered with Quality Parts?
The answer to that is simple. Yes and no. 🙂 The guitar kits I am going to recommend to you feature top wood parts, proper hardware and first-price electronics.
Considering that those packages cost between $150 and $250 a piece it is a sound investment. But assembling guitar kit concerns only the folks who are interested in learning how to make guitars. You can find a second-hand guitar for the same price and the only crafting involved is to sign a check. If you want to build a guitar, it's in the first place because you are passionate about the idea of making YOUR guitar and learning how to do it. Otherwise, you can simply modify the electronic on a first price Squier or any second-hand guitar.
How to amend the Guitar Kit and make it better than a real one?
If the support you've made is satisfactory (paint, finish, playability) changing the pickups and amending the wiring possibilities will not only make your guitar as good as a Fender or a Gibson but will make it unique as well and much better too. Most of the guitars on sale do not have out of phase switch, master series and other different wirings that are available on custom guitars only.
I' m going to publish lots of different wiring mods with video support and schemes to download. It's going to help you to decide what advanced installation you want to incorporate into your beloved one.
Recommended tool you must have to enter the beautiful world of guitar kit builders
Soldering gun. There are many types. Some are extremely affordable. The most advanced ones feature an air gun and heat control.
Basic screwdriver set
Tester
Files
Dremel. There are some Dremel clones accessible at a low price. I paid less than $35 with 200 tools included. I still use it after two years and everything is in proper order.
Sand paper
Online shops where to Order a Guitar Kit
Stay tuned for coming articles on how to build your own guitar kit. If you have any questions or if you wish to add your personal tips, feel free to use the comment form below.
---
I am Hervé Senni, a pro musician and performer, Composer and arranger for quite some time. My main musical instrument is the electric guitar. I am also a bass player, mandolin, Ukulele player. I also invented string instruments.
Over the years, repairing and improving electric guitars that did not have to be upgraded converted me into a self-taught luthier.
This post is also available in: French