Tony Iommi Pickups Magnum 4 and hyperflux 5 & Guitar Roller Nut – Les Paul Junior Double Cutaway Kit Update
September 2, 2016
Tony Iommi Pickups by John Birch – Amazing Upgrade
Tony Iommi Pickups were one of the few pickup types missing from my arsenal of guitars. If you remember my previous article about my last build, I had installed Tonerider Rebel 90 pickups on it.
Everything was fine, and the beauty just sounded perfect. The only problem was, my SG equipped with neodymium Entwistle pickups have the same sound when set to split mode. Considering the SG has a Gibson scale and sports the same tremolo, it was a duplicate.
Why upgrade a brand new built?
Even if I look like a crazy shopaholic guitar collector, I'm not. I know I have way too many guitars, but still, each and every one of them is unique and sounds different from the other 19. I spend my time trying new mods on my test Strat to make them as different as possible. I had probably rebuilt each of them 3 or 4 times already.
The Les Paul Junior Double Cutaway Kit was, despite looking and sounding extremely good, a failed attempt at my unique sounding quest. The guitar needed to be modified to stay in my guitar tribe.
Tony Iommi Pickups
Tony Iommi Pickups always intrigued me, even if I'm not a fan a Black Sabbath and that music genre. I always liked his really fat and loud sound, and Black Sabbath's riffs are incredibly simple but quite effective.
I knew John Birch passed away, and I didn't know his partner in crime was still in business. I thought they were closed for years and that Birch's pickups were out of price and collector items only until I found them on sale at eBay.
Not only are they still in operation, but they are quite affordable for handmade pickups. I asked John Carling if he could wire them for me sporting four wires and a bare ground wire. (Usually, they deliver them with one contact and a ground wire only) He accepted for the same price. Nice!
John Carling was John Birch's partner and he's now in charge of operations with his son.
Check out the demo video:
Custom Wiring
The four wires allowed me to do my favorite mod. The series-Split-parallel individual pickup mod and it sounds extremely good with those pickups.
Magnum 4 and hyperflux 5 are really fatty and powerful. As demonstrated in the video, they sound enormous in the solo mode. They are good for heavy rock, but also for a clean jazz sound. They are versatile. You can play whatever type of music with them, especially in the series-Split-parallel mode.
The other mods on the Les Paul Junior Double Cutaway are:
PTB two bands EQ
Artec BCU – Band Control Unit wired after everything to have access to it even in the solo mod.
I already did an in-depth review of the Artec BCU. You can read about it following this link.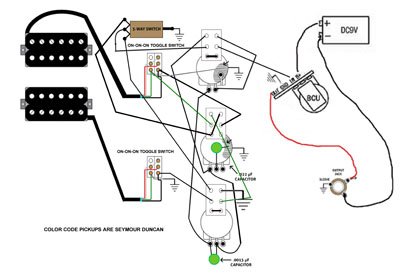 Gibson Type Roller Nut
I also installed a Roller Nut for Gibson type of neck. I bought it on eBay for an affordable price, and it was easy to install. It's the same process as the Fender LSR roller nut. You have to remove a chunk of the fingerboard to have the same first fret length. I cover everything about it in the video.
You must use the Fret position calculator from Stewmac to get the exact length of the first fret. Use a Caliper to trace measure it precisely.
The strings start to vibrate at the top of the rolls; Wich is located in the middle of the roller nut. Therefore, you need to remove the extra fingerboard from the center of the rolls to the border of the roller nut to have the same first fret dimension. I just did it using a cutter, and I was able to realize it in under 20 minutes.
As explained in the video, you must install a string retainer. Otherwise, the D and G strings do not stay in their respective slice.
The rest of the video is self-explanatory. I corrected an intonation issue. I had to relocate the Tune-o-Matic drilling to place the Stepsbar vibrato in the right place.
Recommended links
Feel free to ask if you have any issue building up this schematic.
---
Distribute your music using Distrokid
Use my VIP Link and get 7%
I am Hervé Senni, a pro musician and performer, Composer and arranger for quite some time. My main musical instrument is the electric guitar. I am also a bass player, mandolin, Ukulele player. I also invented string instruments.
Over the years, repairing and improving electric guitars that did not have to be upgraded converted me into a self-taught luthier.
This post is also available in: French