Custom Baritone Guitar with fanned frets & hipshot multiscale guitar bridge
October 22, 2021
Baritone guitar tuning – hipshot multiscale guitar bridge
multiscale guitar Neck – ARTEC HXTN HOT RAIL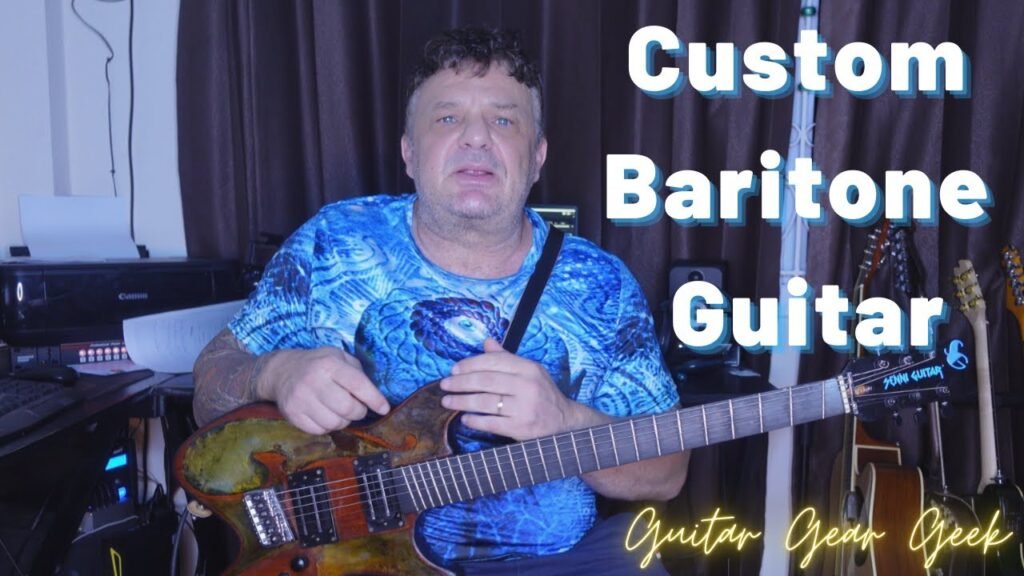 In this video, I'm going to review the custom baritone guitar I have built. Check it out!
I have built this baritone guitar using a first-price quality kit from Aliexpress from ARSENAL Official Store. 
I modified the metal shape and rounded the edges. I also used a fanned fret I bought at eBay instead of the original neck. 
I decided to opt for a fanned fret to have a more extended scale on the bass strings side because low tuning tends to be slack. 
The bridge is a hipshot multiscale guitar bridge. I bought it on the hipshot site directly. You have to know that there's no info whatsoever to install it. To find the proper intonation, I had to screw the neck and the bridge on a piece of 2 by 4. I was testing different scales until the octave was correct. 
The baritone guitar is tuned in A, a fifth lower than a regular tuning. So it's like tuning it at the fifth fret an octave lower. 
I get A, D, G, C, E, A. I used Daddario exl 158 strings. 
Pickups are ARTEC HXTN HOT RAIL HUMBUCKER. They have a loud output. I bought those pickups at eyguitarmusic.com.
Concerning the electronic, there's no tone pot. Only a master volume and two spin-a-splits. One for each pickup.
Actually, for this type of guitar tuning, the neck pickup is useless. The instrument is way too low, and the neck pickup is too dark. So I'm only using the bridge pickup and balancing my tone using the spin-a-split.
I like this guitar a lot. String's tension is low, and the tuning is a fifth lower than a regular guitar, making it easy to play. However, when I play an A chord, it is a D chord. 
That's why I made a 3/4 guitar tuned the same way but an octave higher. I am also using an electric Ukulele that I am going to review soon. 
When I make a song using those three instruments, I don't even think about transposing. I only have to transpose when I get to the bass part. 
Recently I made a song using the Baritone guitar. It is pretty straightforward. The song features a bass track, a drum track, a simple guitar synth track, and a baritone. 
Listen to the song directly if you want to skip my blabla
I just released a video version of the song.
Reccomended links
I am Hervé Senni, a pro musician and performer, Composer and arranger for quite some time. My main musical instrument is the electric guitar. I am also a bass player, mandolin, Ukulele player. I also invented string instruments.
Over the years, repairing and improving electric guitars that did not have to be upgraded converted me into a self-taught luthier.
This post is also available in: French