335 Guitar Clone by Derulo – High-Quality Chinese Guitar
February 26, 2021
Testing Derulo 335 Guitar Style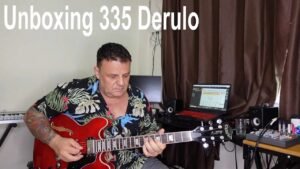 The Derulo 335 Guitar is an F-hole Semi-Hollow Body electric guitar. I bought it because I was missing a 335-guitar type in my collection. 
Since I moved to Thailand, I only brought four guitars with me. I let all my 45 and more instruments back in France. I decided to import them, and as I'm writing these lines, they were all packed and are waiting to get on a boat to Bangkok.
Lots of 335-Guitar deals @ my favorite sponsor
Ibanez AM93
Nevertheless, I do not have a 335-guitar type in my lineup anymore. I had one that I bought in a pawnshop, an Ibanez AM93. I used it to record a few songs: Green Bag, Mighty, and Slow Motion. Those songs are available on my album Galaxy Drops that you can stream or download on a massive website list. (List below)
I was stupid to resell that Ibanez AM93. But at the time, I was in the mood to only play with guitars I have built. So, I bought it, intending to resell it before even playing it. At the time, I was shopping pawn shops and flea markets to find good deals to sell on eBay or Reverb. 
Also, if I remember right, I thought the body of the guitar was too big. The playing position was uncomfortable. I didn't particularly appreciate playing it.
Re-discovering the love of ES335 Guitar Type
When I worked on the Galaxy Drop album mastering, Album made up of songs that I had forgotten entirely. I was delighted with the sound and my way of playing this guitar. So, I decided to find a playable 335 clone that will serve as the basis for my usual modifications.
First, I was looking at other clones at Lazada. Those guitars looked good, but a bit expensive. I was looking for something cheaper. Also, I'm not too fond of the trapeze bridge. It's tough to stabilize the strings, and when you break a string, the overall tuning goes entirely off. 
Galaxy Drop Streaming Websites
Galaxy Drop Download sites
Alibaba
So, I went on Alibaba and searched for 335 guitars. Choices were huge, but Derulo appeared in the search results. I bought many gears from this seller—Stratocaster's neck and a guitar kit that I still own. 
I started to chat with customer support right away. On Alibaba, the problem is not finding stocks. The problem is to find a seller that agrees to sell an individual instrument. Alibaba is a wholesale website. Many sellers want to sell guitars by the dozen. When you contact a seller, most of the time, they do not answer. And when they answer, the first question they ask is, "how many do you want". Suppose you say "one", you never hear from them again. Or weeks later, they might answer, "we only sell large amounts." 
Derulo support answered right away and was willing to sell me the guitar at a cool price.
I paid it 169.99$, shipping included. I had to pay 500thb at customs. 
Look at the video I made testing it
Observe a minute of silence for the chair. RIP courageous chair.
Test Result
The guitar is fantastic. Considering the price, I thought I would have to change pickups and hardware—none of this. The sound is superb, and every part is excellent. I wanted to change tuners for locking ones. But the ones installed are just great. I first tuned the guitar and played for an hour without having to tune it again. Changing tuners is a waste of money.
Sadly, after I bought the guitar, they got an infringement complaint (probably from Gibson). The guitar is not available anymore. If you are looking for a guitar or a bass, a kit or parts, go to their shop. They are outstanding.
I talked to them, and they told me that they are going to offer their own guitar shape soon. I will update this article as soon as it is ready. In the meantime, I selected a great choice of ES335 alternative.
Es 335 alternatives
---
Distribute your music using Distrokid
Use my VIP Link and get 7%
I am Hervé Senni, a pro musician and performer, Composer and arranger for quite some time. My main musical instrument is the electric guitar. I am also a bass player, mandolin, Ukulele player. I also invented string instruments.
Over the years, repairing and improving electric guitars that did not have to be upgraded converted me into a self-taught luthier.
This post is also available in: French