Resonator Guitars – My personal history with Delta 6 Eastwood Guitar & Harley Benton Resoking
December 2, 2021
I started with a Delta six from Eastwood Guitar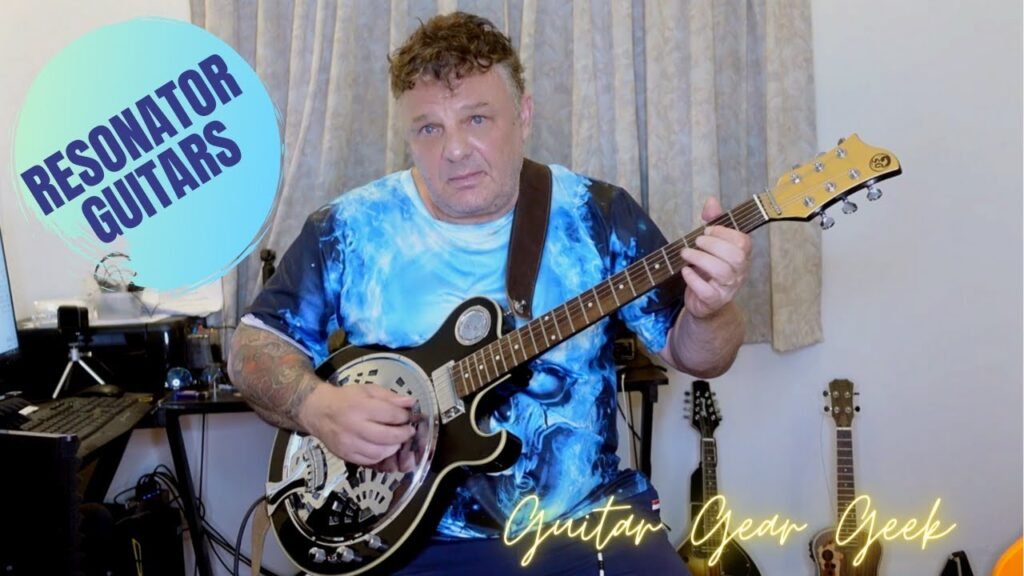 In this video, I decided to put together snippets of my old resonator guitar videos and compare them with the guitar I still have today.
The Delta six from Eastwood Guitar represents a particular period of my life
I stopped playing the guitar for ten years because of recurring tendinitis problems. I switched to Tuba during that lapse of time, and The Delta 6 was the guitar that got me back into the six strings.
When I discovered Eastwood instruments, I was seduced by the mix of vintage instruments with modern technology. Because of the low price, I decided to order it and to start playing again.
Image quality and my overall speech were questionable, so I decided to save the best parts and make an amended version of my complete history with resonator guitars. I also wanted to update you on the instrument I have today.
The delta 6 piezo sucked so bad that I only reviewed the P90 neck pickup.
The guitar played wonderfully, but at the time, I decided to enter into the guitar building world and to only play with guitars I had built. So I sold it.
The Harley Benton Resoking guitar
I decided to get myself another resonator two years later, so I bought the Harley Benton Resoking guitar. The instrument was comfortable to play, but the electronic was terrible. So I decided to apply my magic and to make it sound awesome.
I changed everything, and I built a Jfet preamp that made all the difference in the world for the piezo pickup. As a rule of thumb, a Piezo without a preamp cannot sound good.
Building a Jfet preamp is not the ultimate solution. However, you can install any piezo preamps for acoustic guitar or Ukulele and get the same result or even much better. Also, with those preamps, you have an EQ, a presence, and a tuner.
But the room required is not always available on a solid-body or a semi-hollow body guitar type.
The same guitar today
The guitar is exactly as it was in the latest video. I only changed the strings and charged the battery for the Jfet preamp. But, at the time, I was using Bugera amps. So I was playing with two amps in stereo with analogic effects.
Since then, I have swapped my gear. After many changes, I am now playing with a Mooer GE300 and some analogic effects.
I tried to make a patch close to the sound I had with my amps because I love my tone.
Bill Lawrence EQ filter
I added a Bill Lawrence EQ filter instead of a regular tone pot. In the down position, I have a standard 0.047uF cap functioning as a conventional tone pot.
When pulled, a 1.5 Henri inductor kicks in coupled to a 0.027uF capacitor. It's like having a varitone on a dimmer.
The inductor acts differently. It filters out the mid. So I get a bright sound when I roll down the tone pot to zero in inductor mode.
Buy a Resonator guitar
Links to previews articles
Hervé Senni YT Channel
Don't forget to sign up to my YT channel.
I am Hervé Senni, a pro musician and performer, Composer and arranger for quite some time. My main musical instrument is the electric guitar. I am also a bass player, mandolin, Ukulele player. I also invented string instruments.
Over the years, repairing and improving electric guitars that did not have to be upgraded converted me into a self-taught luthier.
This post is also available in: French